THE TEN COMMANDMENTS – GOD'S PERFECT LAW of LIBERTY
(Ook in

Afrikaans beskikbaar)
Exploring the In-Depth Practical Application of God's Top Ten
By God's grace, the new, completely revised, updated and expanded Ten Commandments – God's Perfect Law of Liberty book is now available, along with the Ten Commandments Audio MP3 and Data Boxset. The Afrikaans translation, Die Tien Gebooie – God se Volmaakte Wet van Vryheid, is now also available.
Essential for Biblical Evangelism
"Never before in Church history has there been such a need to return to the basics of Biblical Evangelism. Our churches are filled with false converts, simply because we have abandoned doing what Jesus did when it comes to reaching out to the lost. The disease must be diagnosed before the cure is offered to the patient, or it will never be appreciated, or appropriated. I thank God for my friend, Peter Hammond and pray that God's blessing will be on his book." Ray Comfort, Way of the Master
"The Law of the Lord is perfect, converting the soul." Psalm 19:7
To Transform Lives and Communities
"To those who would argue that God does not exist, read this book and each page will reveal that God not only exists, but He knows you better than you do. Can a single book change a person and an entire nation? This one can!!" Todd Friel, Wretched Radio and TV.
"Therefore the Law was our Tutor, to bring us to Christ, that we may be justified by faith." Galatians 3:24
Practical, Down to Earth and Relevant
"As I listened to this series of messages at Livingstone Fellowship, I kept thinking how practical, down to earth and relevant these eternal truths are for us today. I rejoice now to see the entire series in this one book. This book brings each Commandment to life and makes them relevant to our contemporary culture. Each chapter is a well-spring of delightful surprises with useful information, Spiritual inspiration and Christian challenge." Rev. Bill Bathman, Founder of Network and Pioneers.
"Therefore the Law is holy and the commandment holy and just and good." Romans 7:12
Bible Teaching Resource
The Ten Commandments - God's Perfect Law of Liberty (152 pages, 15 pictures) explores the in-depth practical application of God's Ten Commandments. It provides an essential Bible-teaching resource for Evangelism and Discipleship. Both The Ten Commandments - God's Perfect Law of Liberty book (R78) and Ten Commandments Audio MP3 and Data Boxset (R98) (A special Combo offer of both book and boxset for R150) is available from Christian Liberty Books, PO Box 358, Howard Place 7450, Cape Town, South Africa, Tel: 021-689-7478, Fax: 086-551-7490, Email: admin@christianlibertybooks.co.za and Website: www.christianlibertybooks.co.za.
Frontline Fellowship
P.O. Box 74 Newlands 7725
Cape Town South Africa
Tel: 021-689-4480
Email: mission@frontline.org.za
Website: www.FrontlineMissionSA.org
Also Available as an E-book on SmashWords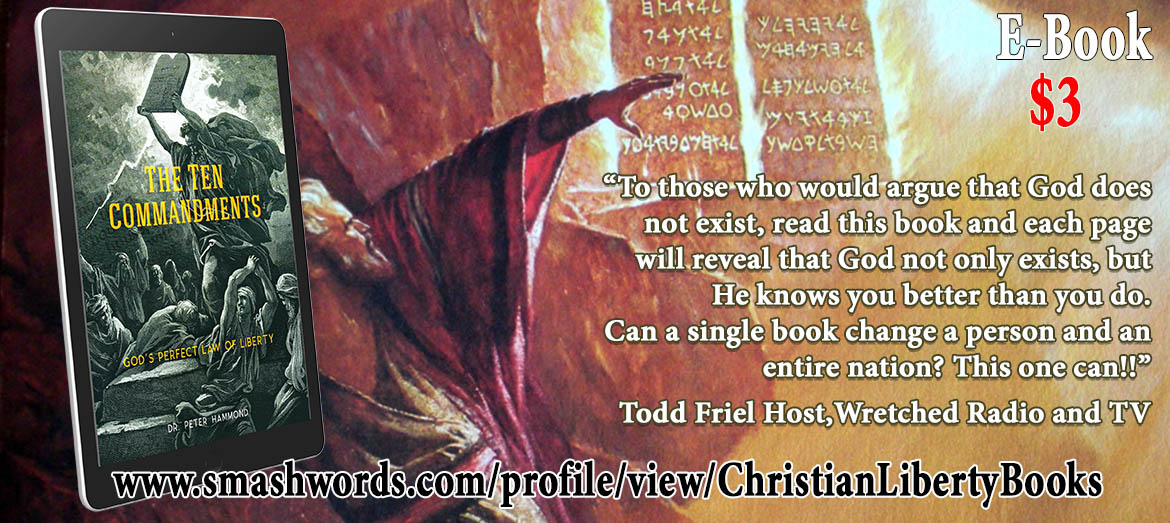 OOK IN AFRIKAANS BESKIKBAAR: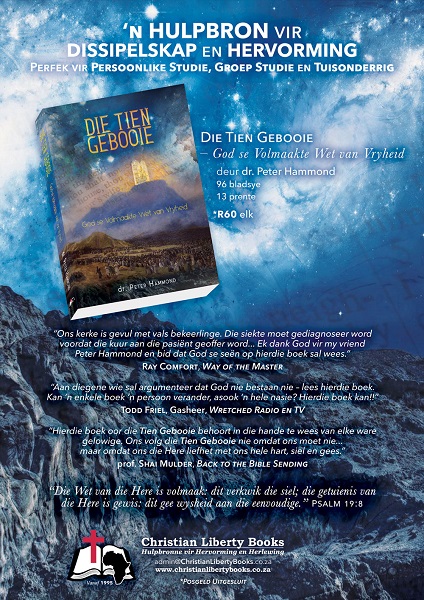 View our In-House catalogues here: