HOLOCAUST IN RWANDA

ALSO AVAILABLE IN ENGLISH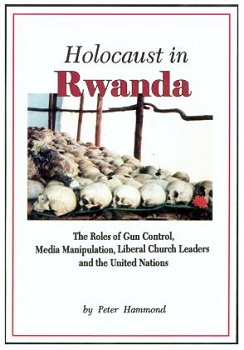 Countdown to Genocide

On 6th April 1994, one of the most dreadful campaigns of mass murder was unleashed upon the Tutsi people of Rwanda. In just 100 days, more people had been slaughtered with machetes and clubs than had died from atomic weapons in all of history. The horrific massacres in homes, hospitals, churches and on the streets, are documented with shocking photographs in Holocaust in Rwanda.

More importantly, the author, Dr. Peter Hammond, relates the events leading up to the intense and widespread violence and documents the reasons why this systematic slaughter was unleashed.

Missionary, Peter Hammond, also examines the disgraceful involvement of liberal church leaders, gun control, media manipulation, the French and US governments and the United Nations in the crisis.

Most importantly, the lessons we need to learn from the genocide in Rwanda are clearly and courageously presented.
View our In-House catalogues here: