Victorious Christians – Who Changed the World

A major book which Dr. Peter Hammond has been busy on for many years is now completed. Victorious Christians – Who Changed the World, will inspire a new generation of dedicated Christians with the incredible examples of excellence provided by some of the most colourful and effective Christians in history.

Dr. Joel R. Beeke of Puritan Reformed Theological Seminary wrote:

"Christians today have short memories. They sometimes feel rootless, for they have forgotten their heritage. But it was not always so. When the Reformers and Puritans wrote, they quoted godly leaders from a thousand years before them as still relevant for their day. Today we have an even richer treasury of Christian biography. We are surrounded by a great cloud of witnesses indeed—at least six thousand years of Covenant-keepers. And the Bible says, "Remember them." Get to know the men of God who adorn the pages of church history. For in remembering them you will see Jesus Christ, and He remains ever the same.

"Victorious Christians will help you to do that. Written in language ordinary people can understand, and beautifully illustrated, it is a welcome introduction to remembering our spiritual fathers and mothers. Here you will find ministers, musicians, missionaries, and martyrs. The table is spread with many dishes—thirty-one biographies ranging from the second century to the twentieth century. Yet each comes in a bite-sized portion which you can read in a single sitting. When the meal is done, you will be satisfied. You will know that you have roots, an identity, and a legacy from godly ancestors. The Christian has a family tree that is older than any nation on earth. And your appetite will be whetted to learn more about your spiritual family through the ages.

"May God graciously add His blessing to Dr. Hammond's book, grant it a wide circulation, and continue to bless his courageous and multifaceted ministry to the building up of His Kingdom and the breaking down of the strongholds of satan."

Baroness Eileen Paisley writes:

"Victorious Christians is a wonderful book. We have been thrilled afresh as we read it. It is our prayer that its reading will create a longing among the people of God for an outpouring of His Holy Spirit in Revival power across this sin-soaked world."

Dr. Ian R K Paisley, The Right Honourable Lord Bannside wrote:

"The characters who fill these pages are men and women of differing natures and abilities, diverse in their talents and individual in their contribution to history, but they all have the common mark of the Cross upon them.

"From age to age, from century to century, from decade to decade, God has His peculiar people set aside for His glory. That glory is diligently recorded in these pages. This work is not only a book which will encourage the believer, but it is a book which will help the scholar. Dr Peter Hammond has done the donkey work – you and I are indebted to him for his labour.

"More importantly, he has recorded for another generation these 'Pilgrims of Valour' who 'come wind, come weather', were faithful unto death.

"As you begin your journey through their lives I would encourage you to take time to ask their God to instil in you the same fruit of the Spirit that turned their human weakness into Christian victory!"

Victorious Christians includes: 32 Character studies with over 260 pictures. The 380 page book includes: 10 Reformers, 6 Martyrs, 6 Missionaries, 4 Evangelists, 4 Professors, 3 Soldiers, 2 Musicians, 2 Kings, 1 Artist, an Inventor, an Historian and a Queen. This book provides fascinating insights to virtually every age of Church history by focusing on Christian characters, their courage and convictions in times of crisis. Lavishly illustrated, this book can be used for recreational reading by those who enjoy reading Biographies, or as a treasure trove of illustrations and examples for pastors, teachers and homeschoolers.

You will never be the same after reading these incredible true stories of victorious Christians who impacted their world for Christ.
"I highly recommend Dr Peter Hammond 's book, Victorious Christians Who Changed the World. The endorsements by Joel Beeke and Ian Paisley do not overstate their case, this book should be family reading in the same vein as Foxes Book Of Martyrs. Thirty two biographical sketches of the lives and impact of men and women who changed the world through their service to Christ. Ranging from Perpetua in the first century to Mary Slessor in the early twentieth, I was introduced to several people I had never met before; such as Swedish King Gustavus Adolfus.
Each character's biography contains enough information to make them familiar without being too long of a read. The many many pictures collected by Dr Hammond will be of interest to adults and children alike and will further cement the reality of the life and times of the book's subjects.
The wide expanse of study and travel necessary to write a book like this comes alive in Dr Hammond's brisk style. Truly there is a great need for the work of the Christian historian as there are a great many things that cannot be learned or discerned from a Google search.
Victorious Christians Who Changed the World will make a welcome addition to the library of every family that prizes learning about its Christian roots." - Robert Hoyle
Also Available as an E-book on SmashWords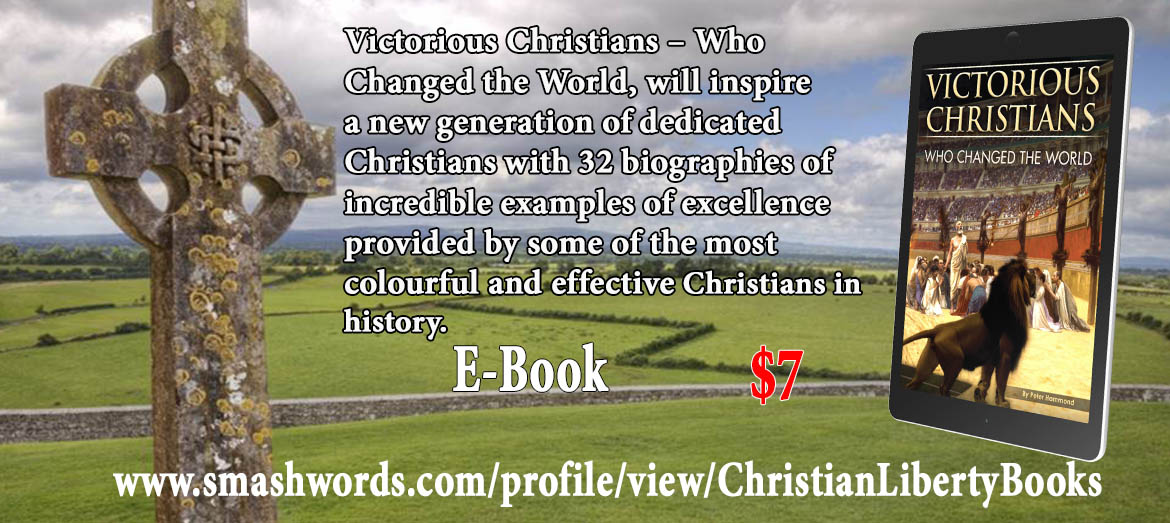 Also Available as Print-On-Demand at Lulu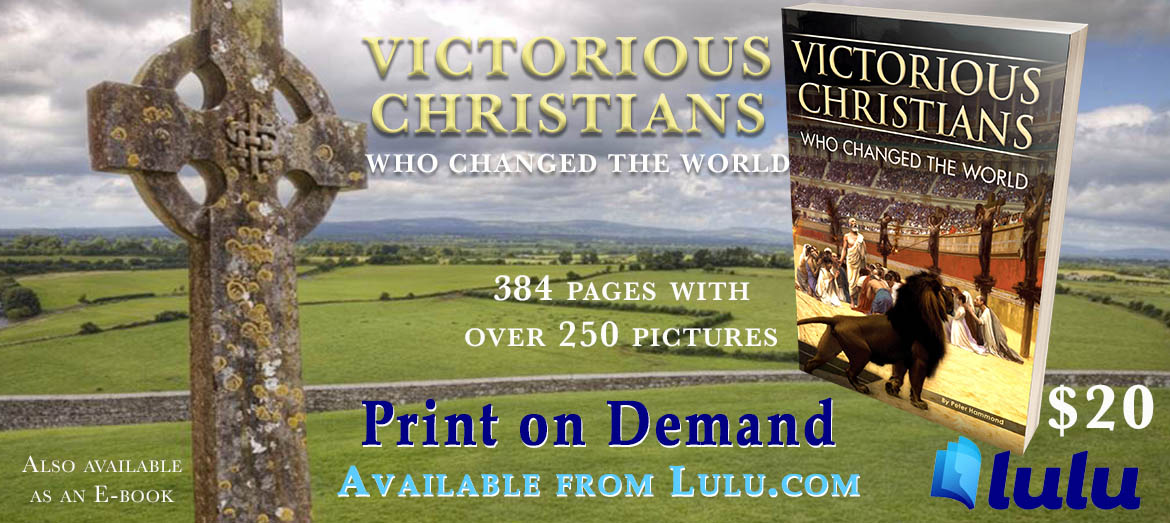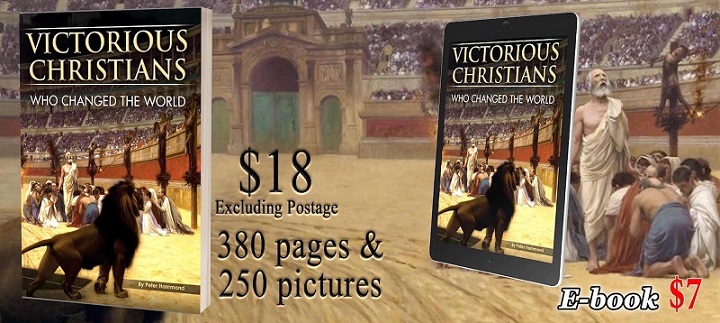 Combo - Victorious Christians & Heroes of the faith MP3
Also Available on MP3 - Heroes of the faith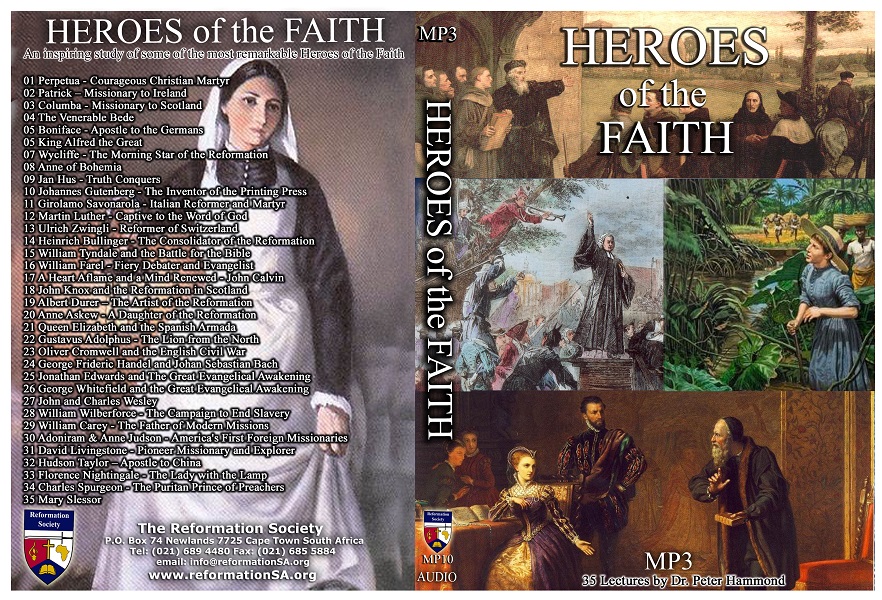 View our In-House catalogues here: